We were 20 years old. Our good friends Ron and Pam liked flea markets and I had never been to one before. We drove from Elgin, Illinois to Mukwonago, Wisconsin for what was a rather large flea market with maybe $30 in our pockets. This was in 1977; we had no credit cards and had been married for about 6 months.   
We ate bratwurst at a food stand and Jim and Ron had a beer. It was beautiful outside; a perfect sunny fall day. Pam and I walked through the vendors talking and laughing while catching up on babies, friends, and families when she starts pointing out pieces of glass and dishes. Pam's mom had always collected these pieces and she knew just enough to get me interested. What a great tour guide Pam was as we talked with the vendors about their wares.    
Then I saw them…….blue willow ware. As a child I had read Doris Gates' The Blue Willow Plate. The relationship between a memory and your mom was one that resonated with me.    There were three saucers created with the Blue Willow pattern stamped "made in Occupied Japan." I bought them for $3 each. So, began my love of blue willow ware.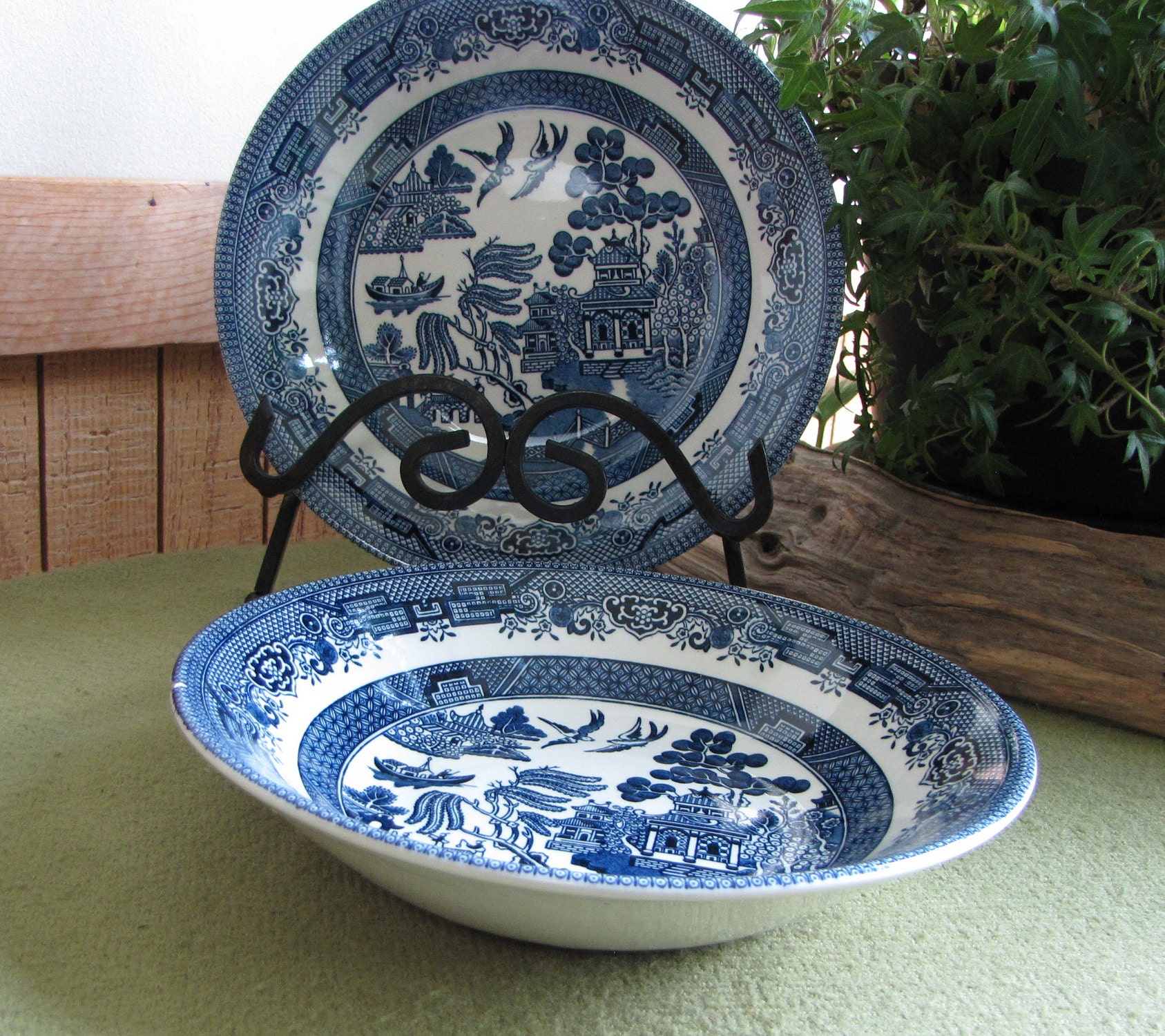 The Pattern's Story 
Blue Willow ware has been in continuous production longer than any other dinnerware pattern. It dates back to the 18th century when the East India Company began to import blue and white Chinese porcelains to London. It is said that Queen Mary II started her own collection and had a special cabinet made for it. This is where the name "china cabinet" came from.    
In the late 1700s, an Irishman, John Brooks, invented "transfer printing" which allowed pieces to be mass-produced from patterns engraved on copper plates; eliminating the need for hand painting. It was Thomas Turner and Thomas Minton that first copied the Chinese patterns onto copper plates. Josiah Spode developed an improved paper for transfer printing.
By 1830, there were 200 manufacturers producing blue willow ware in England. It wasn't until 1905 that Buffalo Pottery in Buffalo, NY produced the willow pattern using the transfer print method in America.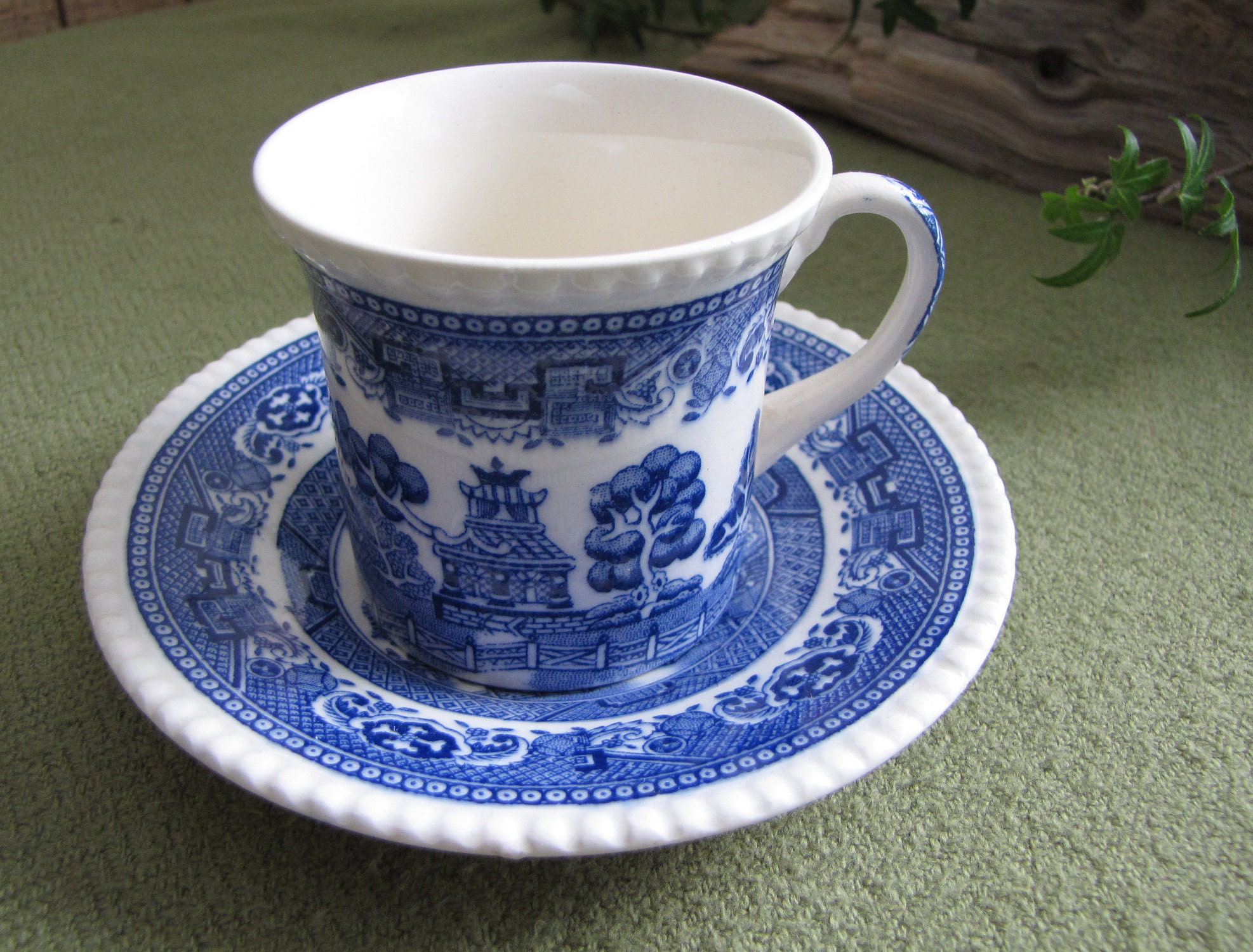 The Willow Pattern Legend
Once upon a time a Mandarin gentleman had a beautiful daughter, Koong-se. His secretary, Chang, fell in love with Koong-se but the Mandarin forbids his daughter to see Chang as he was unworthy of her. 
Chang was banished and the Mandarin' put a fence up around this estate to separate the two. Walking to the water's edge, Koong-se found a shell fitted with sails and containing a poem and a bead that she had given to Chang. She knew then that he was not far away.
Her father had betrothed her to Ta-jin, a noble warrior Duke. Ta-jin presented her with a gift of jewels to celebrate their betrothal. She was full of despair as she loved Chang and did not want to marry the Duke.
After the celebratory banquet, dressed as a servant Chang came to Koong-se. They embraced and vowed to run away together. Her father saw them as they were leaving and chased the two lovers across the bridge.
The couple escaped and stayed with a maid from Koong-se's father's estate. Then Koong-se gave the jewels to Chang. When the Mandarin, who was also a magistrate, found this out he swore to execute Chang for stealing the jewels.
One night, the Mandarin sent his guards to capture Chang, but he jumped into the raging river and Koong-se thought he had drowned. Later when the guards returned to search the house again, the maid talked with them while Chang came to window on a boat and took Koong-se safely away. 
They settled on a distant island and over the years Chang became well known for his writing. When Koong-se's father found the two he had his guards execute Chang. Filled with despair for losing Chang, Koong-se set fire to the house while she was inside.
Thus they both perished and the gods, touched by their love, immortalized them as two doves, eternally flying together in the sky.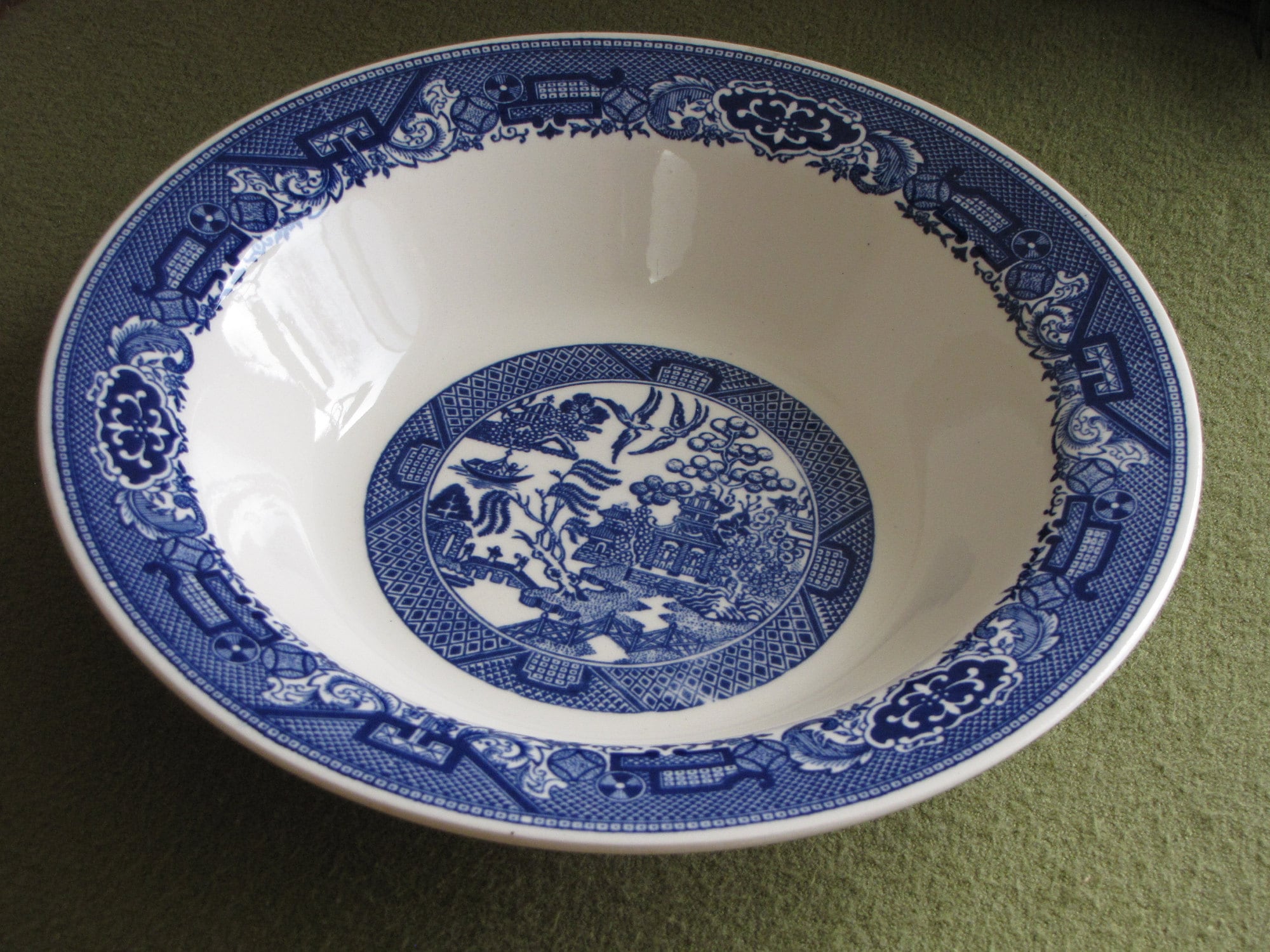 A Note on Occupied Japan  
From 1945 to April 1952, the allied forces occupied Japan when Emperor Hirohito surrender to General Douglas MacArthur and the new Japanese Peace Treaty was signed. Sovereignty was restored back to Japan in April 1952, ending the Allied Occupation. During the occupation, exports from Japan were required to be stamped made in Occupied Japan.  
Additional Information and Resources for Blue Willow Ware
Blue willow ware has been produced by most major china companies throughout America and England for generations. If you are looking to enhance your knowledge or collection of blue willow ware; consider visiting the website of the International Willow Collectors.    
Each year they have a conference in different parts of the country for collectors to find pieces of willow ware and/or to exhibit their collections. I'm hoping to attend my first conference with them in Nashville, TN in July of 2018.
For those of you looking to collect, replace or give a gift of blue willow, you can always drop in at the Lazy Y because I'm always going to be on the lookout for more pieces of blue willow.
I would also suggest a visit to China Galore at www.chinagalore.etsy.com. Lana is the dish lady. If you are looking for replacement pieces of dinnerware, check out her shop. Lana is helpful, knowledgeable and kind.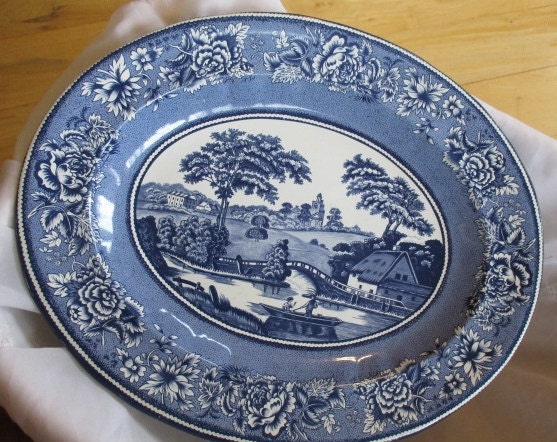 Or Terri's shop at www.2ndhandchicc.etsy.com.  If its trends in home décor that you are interested in, consider decorating with vintage and visit 2ndHandChicc. She has wonderful vintage items and a passion for home decorating with a good eye and knowledge of current trends and fashions.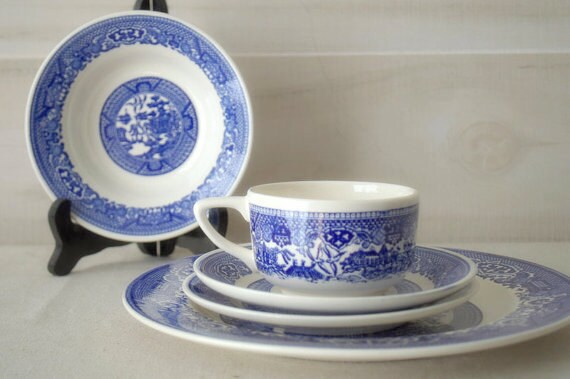 Both of my fellow shopkeepers will provide you with excellent customer service.
Thank you for visiting the Lazy Y Vintage. We appreciate you dropping in. As we go along on our adventure, we look forward to seeing you again and hope you'll find some memories and a bit of history for your collection or home décor.